That 80s Band Stage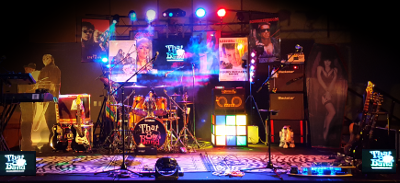 Sample Set List
That 80s Band typically performs two 90 minute sets with a 30 minute break. We are happy to provide a blend of contemporary and 80s music at the break.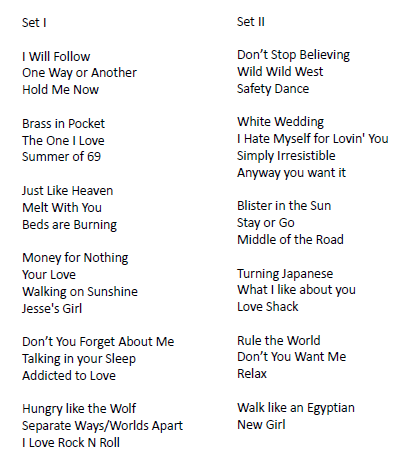 Song List
Our song list is constantly evolving to keep our performances fresh and exciting - here is a sample list of some of the songs we currently perform. Don't see your favorite? Let us know here!
1999 - Prince
867-5309 Jenny - Tommy Tutone
A Girl Like You - The Smithereens
Alive and Kicking - Simple Minds
Alone - Heart
Any Way You Want It - Journey
Beds Are Burning - Midnight Oil
Blister in the Sun - The Violent Femmes
Chain Gang - The Pretenders
Dance Hall Days - Wang Chung
Don't Change - INXS
Don't Forget About Me - Tears for Fears
Don't Stop Believing - Journey
Dreaming - Blonde
Everybody Wants to Rule the World - Tears for Fears
Goodbye to You - Scandal
Hold Me Now - Thompson Twins
Hurts So Good - John Mellencamp
I Hate Myself for Lovin' You - Joan Jett
I Love Rock-N-Roll - Joan Jett
Jessie's Girl - Rick Springfield
Just Like Heaven - The Cure
Just What I Needed - The Cars
Kids in America - Kim Wilde
Kiss - Prince
Kiss Me Deadly - Lita Ford
Let's Go Crazy - Prince
Lips Like Sugar - Echo and the Bunnymen
Love Shack - B52's
Love Song - The Cure
Melt With You - Modern English
Metro - Berlin
Money for Nothing - Dire Straights
New Girl Now - Honeymoon Suite
One Way Or Another - Blondie
Rebel Yell - Billy Idol
Relax - Frankie Goes to Hollywood
Rock the Casbah - The Clash
Separate Ways/Worlds Apart - Journey
Stay or Go - The Clash
Stop Draggin My Heart Around - Stevie Nicks/Tom Petty
Tainted Love - Soft Cell
Talking in Your Sleep - The Romantics
The One I Love - R.E.M.
Voices Carry - 'Til Tuesday
Walkin in L.A. - Missing Persons
Walkin' On Sunshine - Katrina and the Waves
What I Like About You - The Romantics
White Wedding - Billy Idol
Wild Wild West - Escape Club
Working for the Weekend - Loverboy
Your Love - The Outfield
Still have more questions about That 80s Band? Click here! Ready to go? Book Now!